Although the United States is out of the 2014 World Cup, we've got the Fourth of July as an excuse to keep the patriotism going. It's a great time to get a lifetime's worth of wear into your ugly all-over American flag printed tracksuit, because it's totally unacceptable to wear it during the other 11 months of the year. That World Cup hangover likely won't go away any time soon though, since we're all replaying the last 35 minutes of the Belgium match wondering: A) Is Tim Howard a real person or some sort of Captain America-style athletic project from the American government and B) HOW DID WE (specifically Chris Wondolowski) NOT SCORE TO WIN OR TIE THE MATCH?
To help remedy this soccer stress (the very idea of millions of Americans being adversely affected by a soccer match is kind of new here), we've put together every awesome moment in United States sporting history. If one of our fellow citizens repped the Stars N' Stripes in an international competition, they're eligible here. (Note how events like Mike Piazza's post-9/11 home run aren't.) Relive the times where America truly kicked ass at international sporting events through The 25 Greatest Moments in American Sports History.
25. John Brooks' Header Over Ghana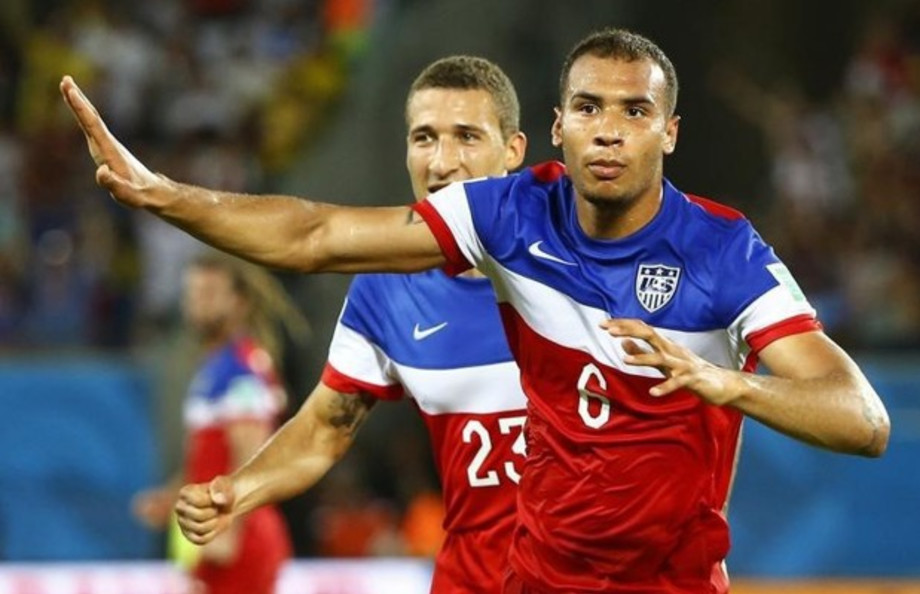 Date: 6/16/2014
Event: 2014 Men's World Cup
Location: Natal, Brazil
While it's still fresh in all our minds, let's talk about the header that sent the country into a complete frenzy. Predicted by many to fall flat on their faces in the so-called "Group of Death," the U.S. held a lead through most of the first 82 minutes, after Clint Dempsey scored the earliest goal in American World Cup history. But after Andre Ayew fired home the equalizer in the 82nd minute, the sudden gust of patriotic soccer feelz that swept the nation were essentially wiped away.
That was until John Brooks slashed across the middle on a corner from Graham Zusi, heading home the deciding goal with just four minutes left before stoppage. Those three points were crucial to the United States' advancement in Brazil. Still, Brooks' goal is a moment that electrified the nation in a way that few events can.
24. Winning the Battle of the Brians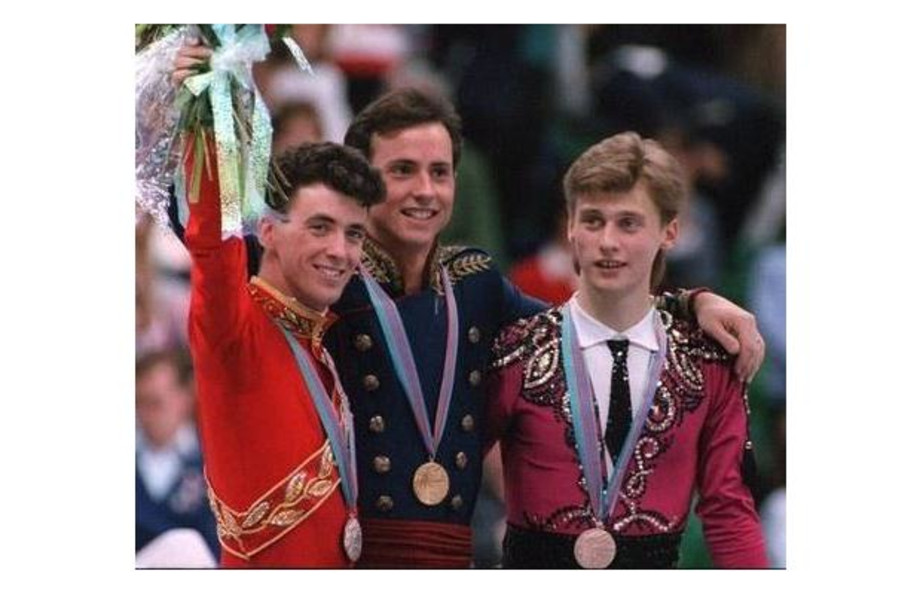 Date: 2/22/1998
Event: 1988 Winter Olympics
Location: Calgary, Canada
Brian Boitano versus Canadian Brian Orser was one of the biggest individual rivalries in Olympic history. It started at the 1984 Winter Olympics, where Orser took Silver in men's singles skating and Boitano placed fifth. Over the next three years, the two alternated Gold medals at the World Figure Skating Championships, with Boitano winning it all in 1986 and Orser taking Gold in 1985 and 1987. The 1988 Olympics was their big showdown. Boitano edged out Orser 5-4 in the final judging, taking that last vote on a tiebreaker.
Had the current tiebreaker for the event been in place in 1988, Orser would've won 6-3. Sucks to suck!
23. Carl Lewis (Eventually) Winning the 1988 Olympics 100 Meter Gold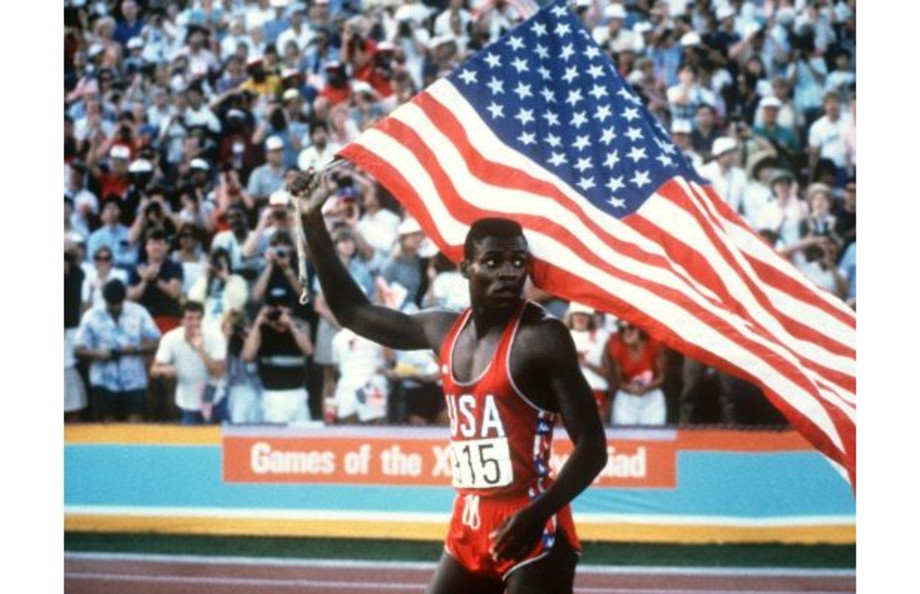 Date: 9/24/1988
Event: 1988 Olympics
Location: Seoul, South Korea
Carl Lewis has his doubters when it comes to doping, but he's never failed a test, and continues to hold the 1988 Gold medal in the prestigious 100 meter dash. He finished second in that race though, getting dusted by Canadian Ben Johnson. Johnson, however, was stripped of his medal shortly after failing a post-race drug test. Lewis was awarded the Gold, making him a two-time Olympic Gold medalist in the 100 meter race.
22. Bowling Technique 2019
Like many other sports, bowling requires the players to wear a specific type of shoe. Choosing the right pair of Sliding bowling shoes is easier than you think. We're here to provide you with the insight you need to make the right choice. So, let's first look at the reason why bowling shoes must be worn during the approach.
On a bowling shoe, there are sliding soles on each side to accommodate a right or left-handed bowler, which your daily sneakers don't have. Sneakers are too "sticky" and will cause you to abruptly stop as you approach the foul line. This puts you at risk of injury, and because your sneakers will leave scuff marks, dirt and other unpleasant junk behind, other bowlers are at risk as well. This is why bowling shoes are made with a gliding/sliding motion in mind.
21. Jackie Joyner-Kersee's Record-Setting 1988 Olympics Run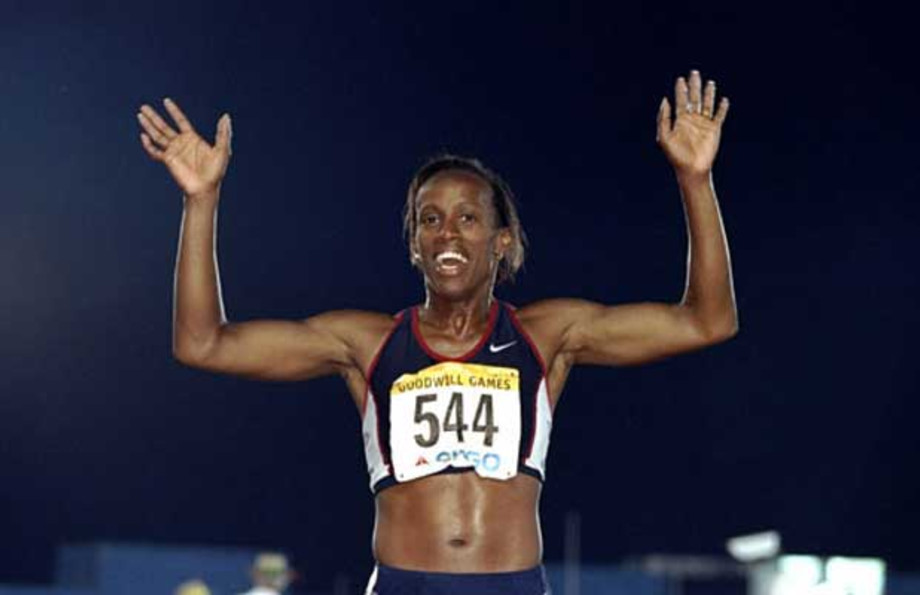 Date: 10/2/1988
Event: 1988 Olympics
Location: Seoul, South Korea
Jackie Joyner-Kersee is a remarkable athlete. Sports Illustrated For Women voted her the Greatest Female Athlete of the 20th century. She won six medals across three Olympics, but it was her 1988 performance that saw her at her peak. Joyner-Kersee won Gold in the heptathlon and long jump, and set a still-standing heptathlon record of 7,291 points.
20. Dan Jansen's 1994 Gold Medal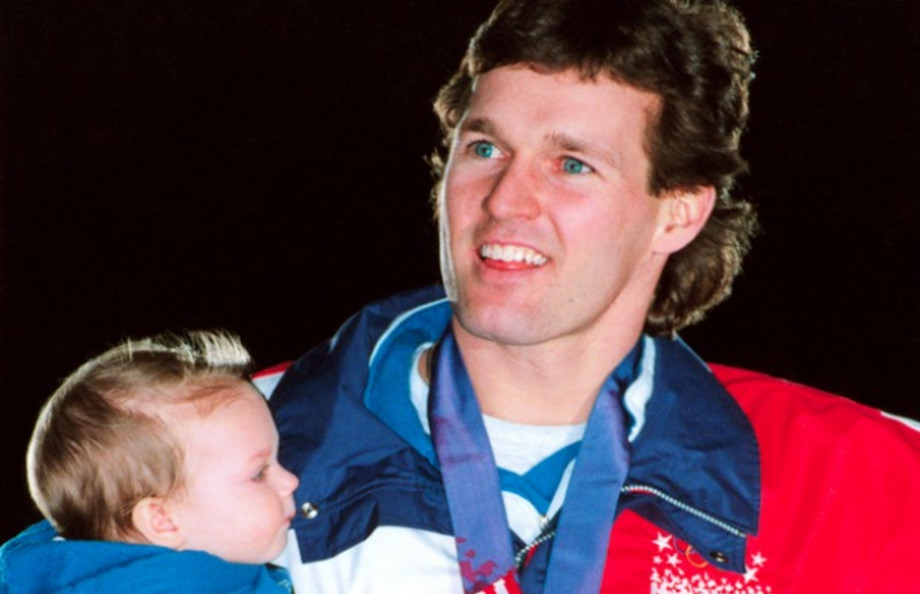 Date: 2/27/1994
Event: 1994 Winter Olympics
Location: Lillehammer, Norway
Dan Jansen entered the 1988 Winter Olympics as the World Sprint Champion in speed skating. The field was his to run over. Unfortunately, however, Jansen learned that his sister had passed suddenly of cancer just hours before one of his events. Jansen wasn't able to collect himself to win any medals at those games, but he did receive the U.S. Olympic Spirit Award for being able to push himself through tragedy. At the 1994 Winter Olympics, Jansen rounded himself into form, winning the 1,000 meter event and setting a world record in the process. After his win, he skated around the ice to dedicate his medal to his late sister.
19. Landon Donovan's Goal vs Algeria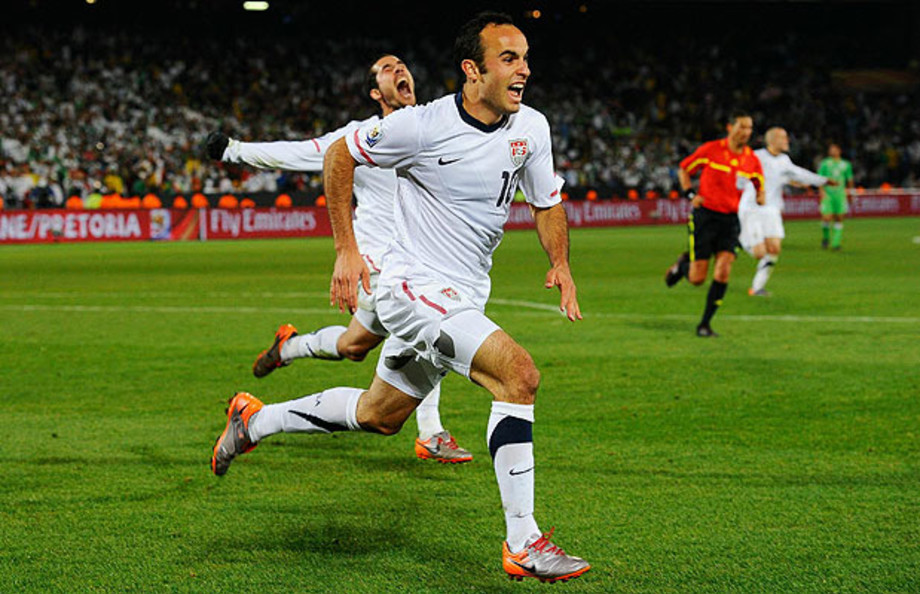 Date: 6/23/2010
Event: 2010 Men's World Cup
Location: Pretoria, South Africa
If we're weighing these moments based upon sheer craziness, Landon Donavon's 2010 World Cup goal against Algeria to send the U.S. into the Round of 16 may be amongst the all-time bests. Nil-nil in the 90th minute, with their Cup hopes on the line, the Americans were four minutes away from Group Play elimination. Goalie Tim Howard launched a LeBron-to-Wade style outlet pass to Landon Donovan streaking downfield, who pushed along to Clint Dempsey in front of the goal. After a quick save, Donovan pounded home the rebound to give the U.S. the lead in stoppage time, clinching a Round of 16 berth.
18. Five American Boxers Win Gold in 1976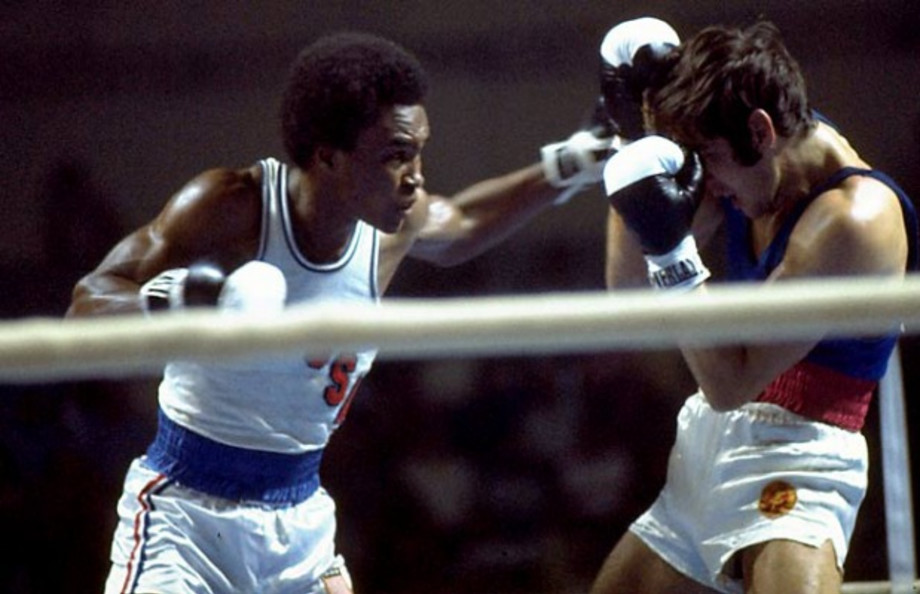 Date: 7/31/1976
Event: 1976 Olympics
Location: Montreal
On the night of July 31, 1976 the U.S. Olympic boxing team would win not one, not two, not three, but seven Gold medals. The treasure chest of medals included five gold, one silver, and one bronze medal. The members of the team included brothers Michael and Leon Spinks, Leo Randolph, Howard Davis and the incomparable Sugar Ray Leonard. America dominated this night in the Olympics.
17. Vince Carter Dunking Over France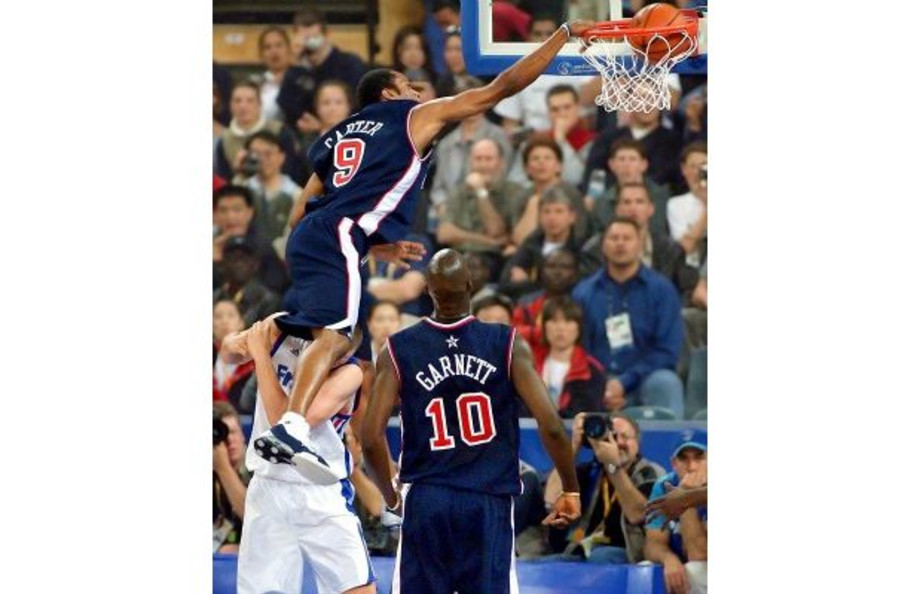 Date: 9/25/2000
Event: 2000 Olypmics
Location: Sydney
Chances are if you've ever watched basketball before, you've seen Vince Carter dunking over the entire country of France. The entire country of France was represented by 7'2″ Frederic Weis in the 2000 Olympics. A 23-year-old Vinsanity treated Weis as a 7'2″ launching pad and Weis complied and gets completely destroyed by VC in his prime. The USA squad went on to defeat France and this bone-crushing dunk set the tone early in the game. This dunk has been coined the "Dunk of Death" and it explains why Weis—who was drafted in the first round by the New York Knicks—never played a single minute in the NBA.
16. U.S. Knocks Mexico Out of 2002 World Cup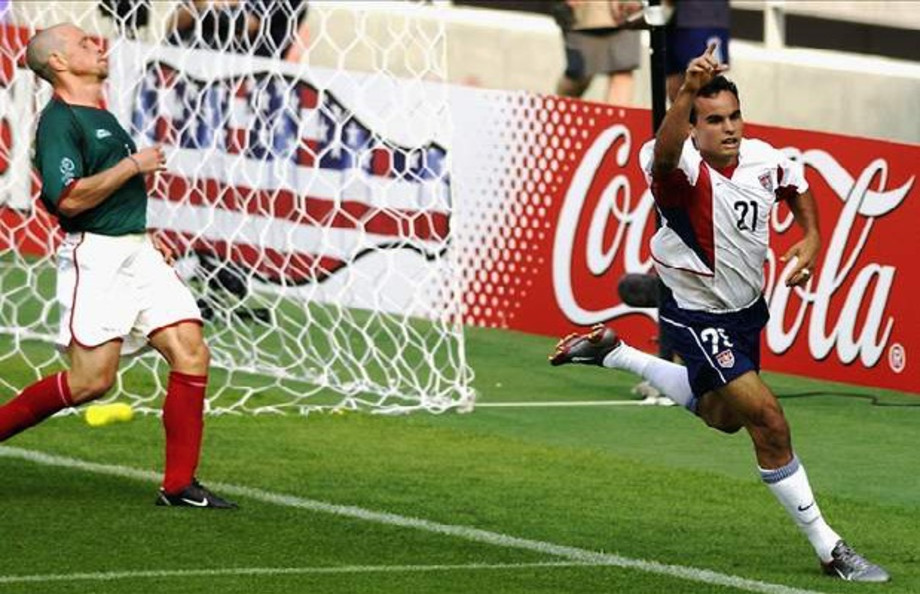 Date: 6/17/2002
Event: 2002 Men's World Cup
Location: South Korea
To remember the last time the United States reached the quarterfinal round, you'd need to go back to the 2002 World Cup in Korea. After advancing past Group Play, the Americans were facingnMexico in a Round of 16 rivalry tilt. During the Cup that featured Landon Donovan as "Best Young Player," Team USA trounced the Mexicans 2-0 with Donovan and Brian McBride doing the scoring, advancing to the quarters for the first time ever, before falling to Germany 1-0.
15. Mark Spitz's Seven Gold Medals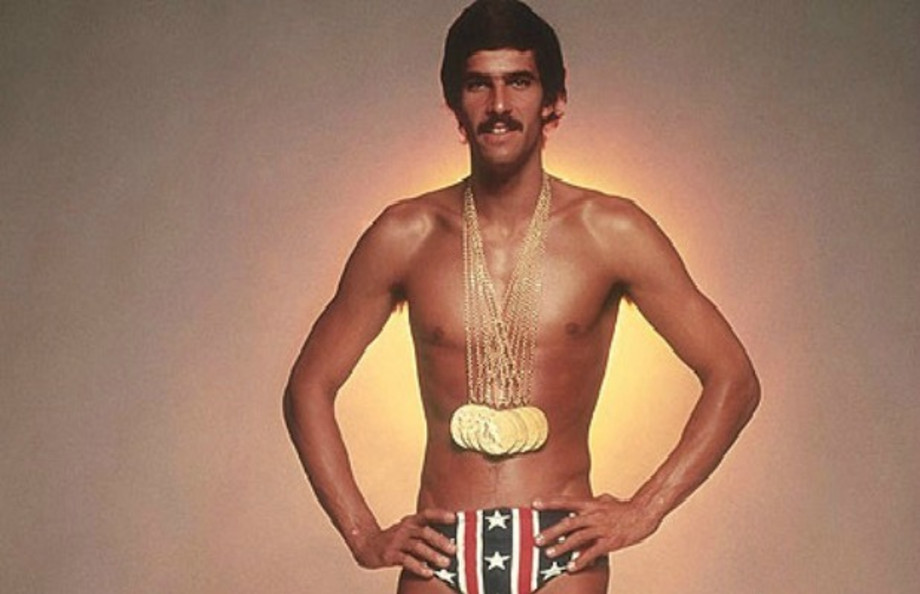 Date: 8/26/1972-9/10/1972
Event: 1972 Olympics
Location: Munich
Before Michael Phelps, there was Mark Spitz. In 1968, during the Mexico City Games, Spitz did his best Broadway Joe imitation by predicting six gold medals. A tad ambitious perhaps, he still managed to win his first two Olympic golds while also grabbing a silver and a bronze in his first ever Olympics. His second, though, were the ones that would rest in the record books for decades. In Munich, Spitz was slated to appear in seven events, giving him a chance, once again, to take home that Trinidad James.
As your parents probably remember, Spitz won gold in all seven races, setting new world records in each. He then promptly pulled a future Barry Sanders and retired at just 22.
14. The Redeem Team Makes Everything Right Again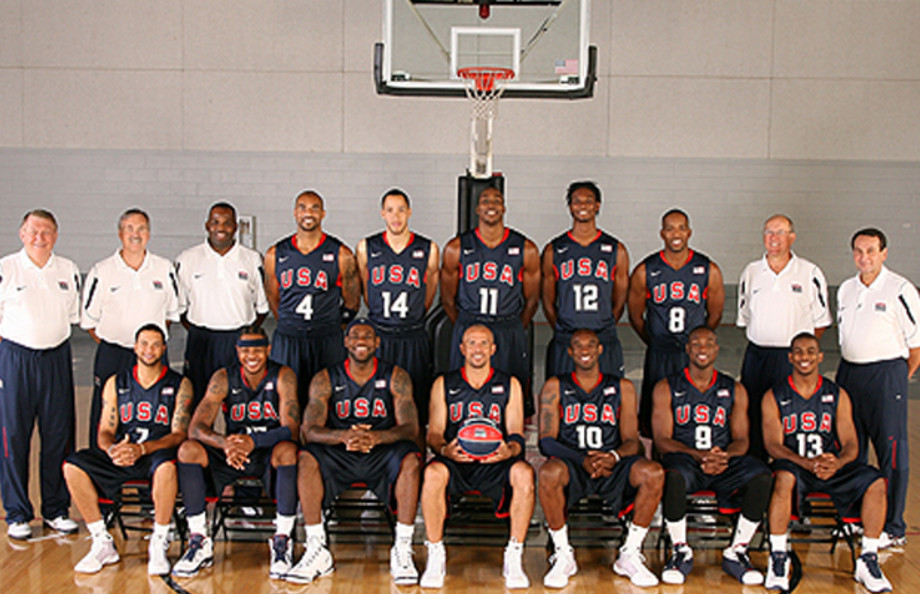 Date: 8/24/2008
Event: 2008 Olympics
Location: Beijing
America does not celebrate silver and bronze medals. Gold medals are the only prizes worth celebrating, which is why the 2004 USA Olympic basketball team was an epic failure when they brought home the bronze medal. LeBron James—who was on that 2004 team—was the vocal leader of the 2008 squad. King James proclaimed, "It's the gold, or it's a failure." Team USA was comprised of 11 NBA All-Stars, a Hall of Fame coach (Coach Krzyzewski) and an NBA MVP. United States defeated Spain 118-107 and brought home the gold.
The "Redeem Team" did exactly what it said it would, in true American fashion.
13. Greg Louganis Cracking Head then Winning Gold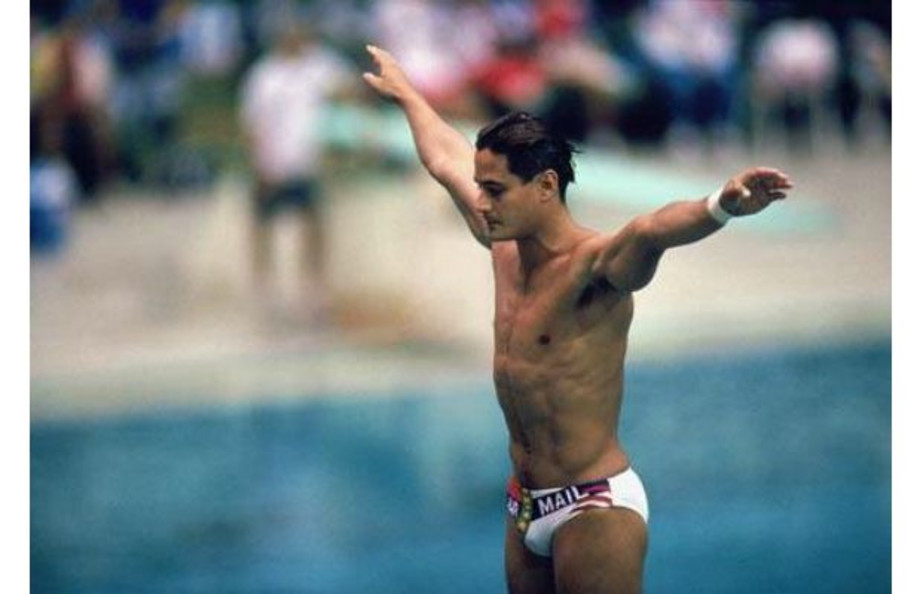 Date: 9/19/1988
Event: 1988 Winter Olympics
Location: Seoul, South Korea
Leading up to the 1988 Games, Greg Louganis had already established himself amongst the best divers in our country's history. To that point he'd already racked up a silver and two golds, dating back to the 1976 Summer Olympics in Montreal. At 28, these would be his final Olympic dives—and, as history would remember them, surely his most bad-ass ones, too. In the preliminary rounds for the 3-meter springboard, Louganis' head made contact with the board, leaving him concussed and bloodied. (It was actually the second time he suffered a similar accident in his career, the first being on the 10-meter platform in 1979.)
Despite the concussion and the immediate aftermath, Louganis completed preliminaries by finishing with the highest score, then went on to take home the gold.
12. Rulon Gardner Defeats Russian Wrestling Empire
Date: 10/1/2000
Event: 2000 Olympics
Location: Sydney
Rulon Gardner had never won a major title entering the 2000 Olympic Games in Sydney. On the other hand, his opponent, Russian Aleksandr Karelin, was on a 13-year undefeated streak. So, when Garner faced off in the Gold Medal match against Karelin, the odds were heavily stacked against him. But, Gardner was representing America, and America always comes out on top when the odds are stacked against them.
Rulon Gardner defeated Karelin and waved the American flag proudly after his victory.
11. Oscar De La Hoya Dedicating Gold Medal to Mom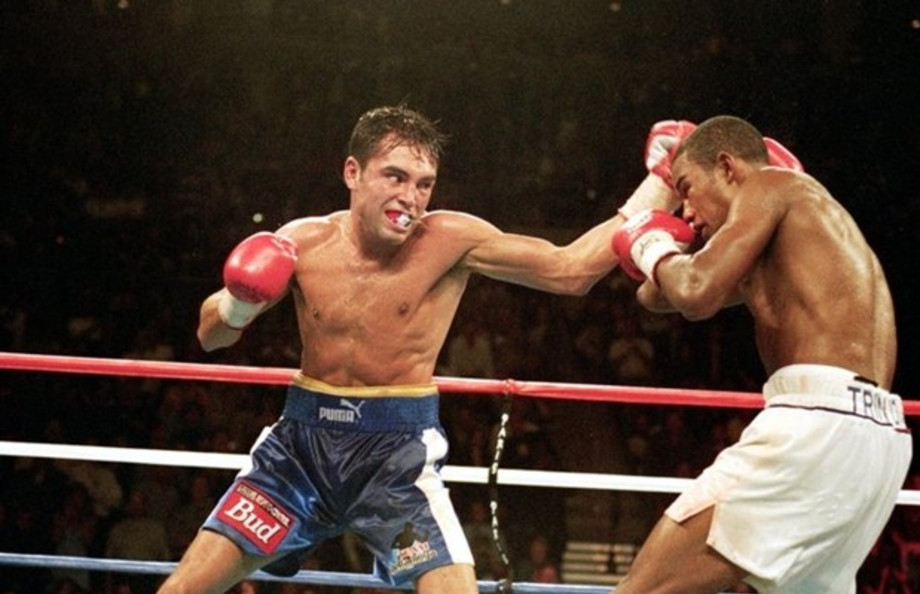 Date: 8/8/1992
Event: 1992 Olympics
Location: Barcelona, Spain
The Olympics in Barcelona at 1992 was dominated by the Dream Team, but there was much more than that going on. Oscar De La Hoya promised his mother that he would bring her an Olympic gold medal one day. Like a true son, Oscar De La Hoya fulfilled his promise to this mother by winning the Gold medal in 1992. Although his mother died in 1990 from breast cancer, she was watching down on Oscar as he defeated Germany's Marco Rudolph 7-2.
His words after the fight showed how special this moment was to De La Hoya, "I feel like I waited for this moment all my life."
10. Women's Soccer Team Wins Gold Medal in Overtime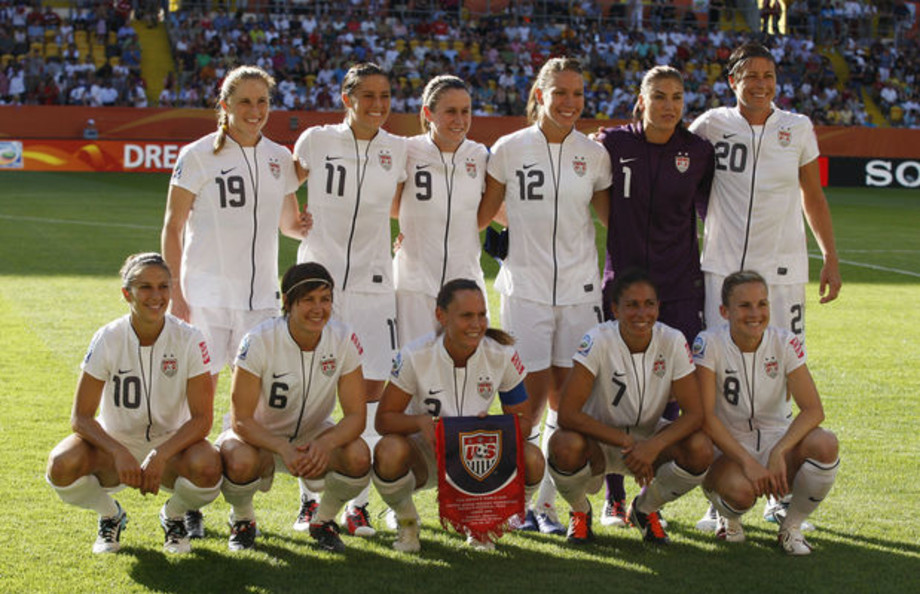 Date: 8/21/2008
Event: 2008 Olympics
Location: Beijing
Title IX has empowered millions of women to pursue athletics, but women's sports don't receive the level of attention that men's do. Sporting infrastructure for men has helped begot female participation, but many Americans are still probably perplexed about why American women are so much better at soccer relative to their male counterparts.
The answer's actually simple: Women in the United States have been athletically enfranchised since 1972, and the rest of the world is still catching up to the women's rights movements as a whole. Because of that, we're able to beat Brazil in soccer, like our 2008 ladies did at the Olympics.
9. 1999 Women's World Cup Triumph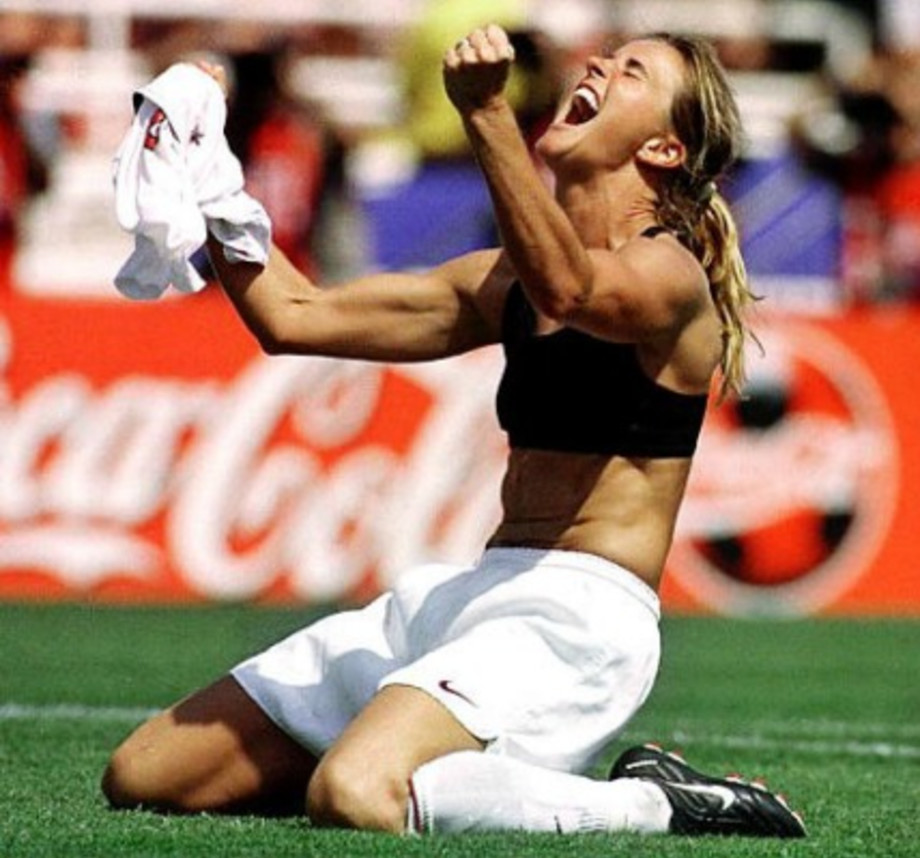 Date: 7/10/1999
Event: 1999 Women's World Cup
Location: Los Angeles
In the men's game, we're still waiting for the United States to produce a transformative moment like our ladies did in 1999. On American soil, they won the World Cup and inspired an entire generation of girls to choose soccer. Just to add drama to the cause, the United States ended up beating China in the Final through a penalty shootout—something that our country probably couldn't handle on the men's side of the game without combusting.
8. U.S.A. Men's Basketball Says No to Silver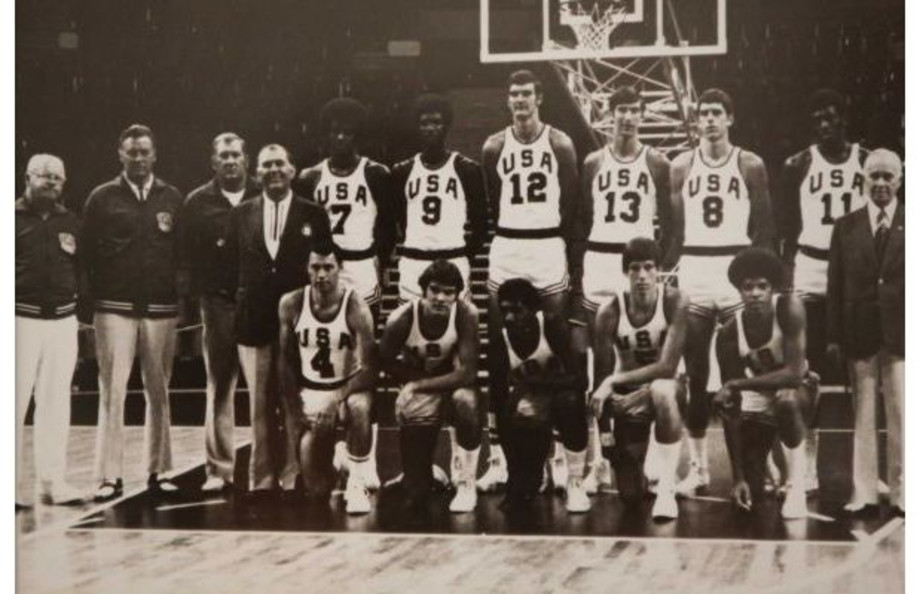 Date: 9/10/1972
Event: 1972 Olympics
Location: Munich
The USA Basketball squad at the 1972 Olympic Games in Munich reached the Gold medal game versus the Soviet Union. The Soviet's were the much more experienced squad, but the US wouldn't stop fighting. After reaching a one-point lead with three seconds left, it seemed that victory would ensue. The Soviet's inbounded the ball and attempted to call a timeout. The international rules stated that a team cannot call a timeout after a free throw. The clock struck zero and America began to celebrate.
However, the secretary general of the International Amateur Basketball Federation, R. William Jones, demanded that the Soviets be granted the timeout and three seconds back on the clock. The referees complied and the Soviets proceeded to score a game-winning layup, winning the game 51-50. America's protest was dismissed, so they refused to accept their silver medals.
The team has denied multiple invitations to pick up the medals which still remain in a vault in Lausanne, Switzerland.
7. Kerri Strug's Gutsy 1996 Olympics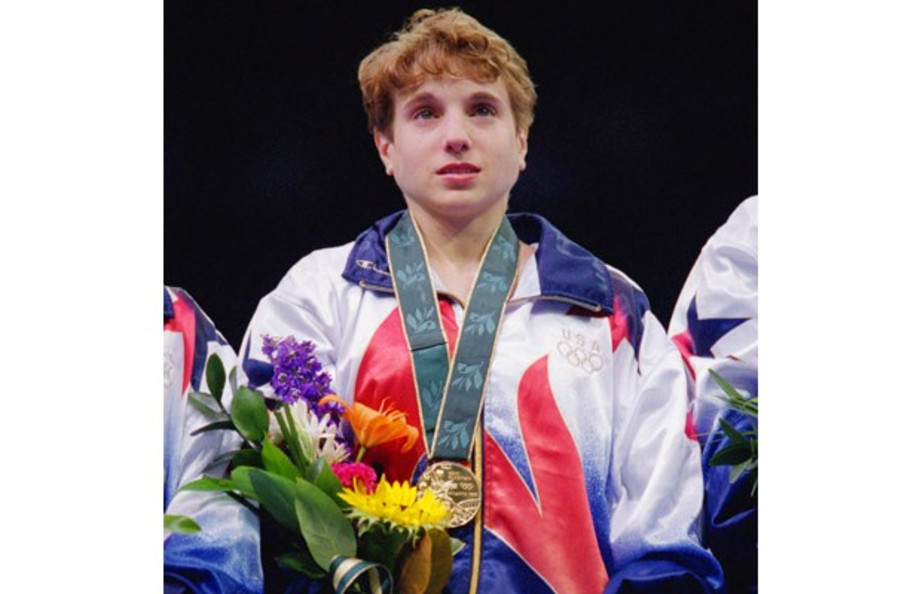 Date: 7/19/1996-8/4/1996
Event: 1996 Olympics
Location: Atlanta
This moment made our list of the Gutsiest Performances in Sports History, and certainly deserves a spot here. After severely injuring her ankle on a botched vault attempt in the finals, she could barely stand. Strug sucked it up, knowing that she just needed one more successful vault to mathematically clinch gold for her team. Limping to the runway, it still seemed unlikely that her ankle would hold up for another attempt.
Her vault was near perfect though, earning a 9.712 from the judges and securing gold for the United States.
6. Michael Phelps' Eight Gold Medals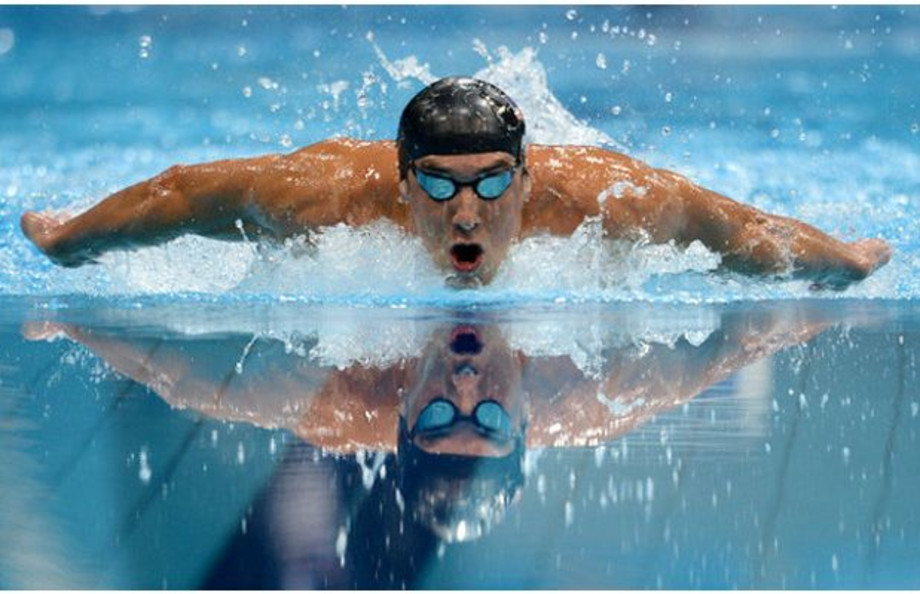 Date: 8/8/2008-8/24/2008
Event: 2008 Olympics
Location: Munich
If you ask the current generation their favorite Olympian of all time, most would probably be quick to tell you it's Michael Phelps. His record-setting eight golds during the 2008 Beijing Summer Olympics is the reason why.
Participating in eight events, he left literally no room for error while chasing Mark Spitz's then-record seven golds set in 1972. After accumulating six golds during the '04 Athens Games, the swimmer had already established himself as a powerhouse within the sport. In Beijing, though, he set out to become a legend.
His teammate Jason Lezak famously pulled the Americans back during his electrifying anchor leg during the 4×100-meter freestyle relay, cementing Phelps into American Olympic lore forever.
5. Muhammad Ali Lighting the Torch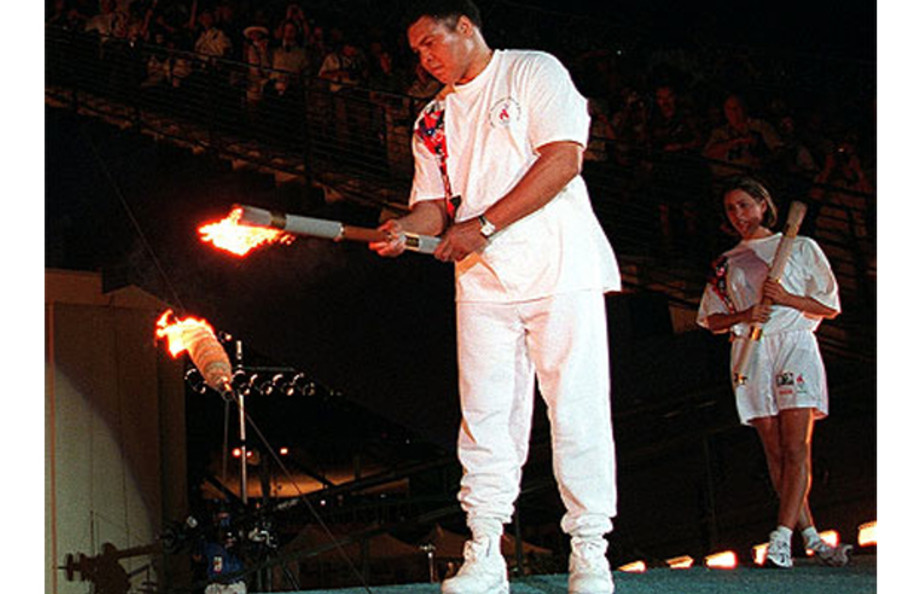 Date: 7/19/1996
Event: 1996 Olympics
Location: Atlanta
When Muhammad Ali lit the torch at the 1996 Olympic Games in Atlanta, it represented the true definition of America. Muhammad Ali—who was fighting under the name Cassius Clay at the time—captured his first Gold medal as an 18-year-old at the 1960 Olympic Games in Rome. He has since become an American icon and the '96 Summer Games was his time to be put on a pedestal.
Suffering from Parkinson's disease, Ali took the torch and flashed off his brilliant trademark smile to the crowd in Atlanta, proclaiming he was still the baddest man on the planet.
4. Tommie Smith and John Carlos' Black Power Salute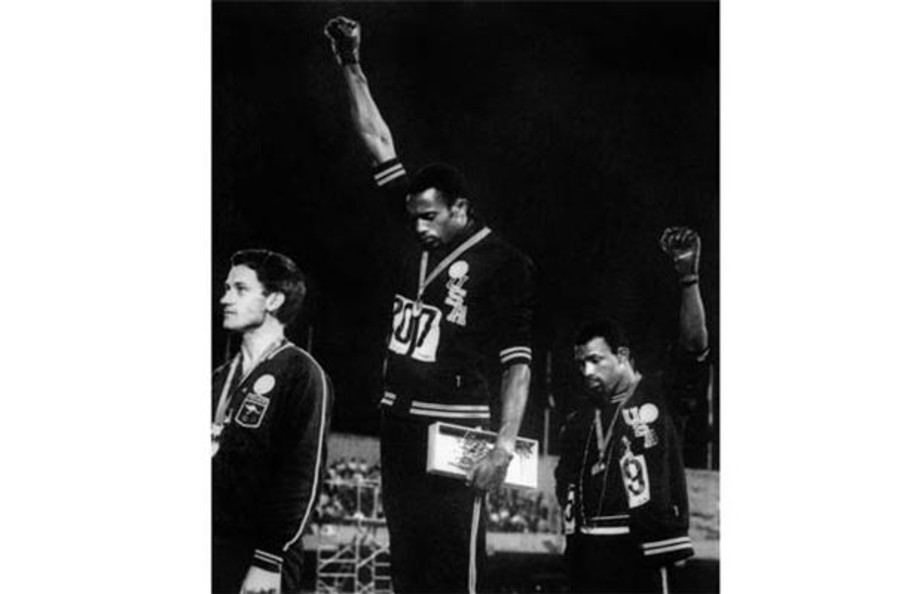 Date: 10/17/1968
Event: 1968 Olympics
Location: Mexico City
The 1960s were part of a very powerful era in American history, and the 1968 Summer Games in Mexico City supplied us with one of the most memorable displays of patriotism. After winning gold and bronze, respectfully, in the men's 200-meter dash, African-American sprinters Tommie Smith and John Carlos were presented their medals at the podium.
As the United States' anthem blared through Olympic Stadium, both medalists raised a single black-gloved fist, and were shoeless, wearing only black socks, as they saluted Black Power. A number of other symbols—unzipped track jackets, beaded necklaces, scarves—were on display as well.
All three medalists—Australian silver winner Peter Norman included—donned Olympic Project for Human Rights patches over their hearts.
Originally, both Olympians planned on wearing a full pair of black gloves, but the plan almost fell through when Carlos forgot his in the Olympic village. It was the Australian Norman's idea, though, for Carlos to take Smith's left glove. This is why Carlos had his left hand raised, as opposed to the usual right-handed Black Power salute.
3. Miracle on Ice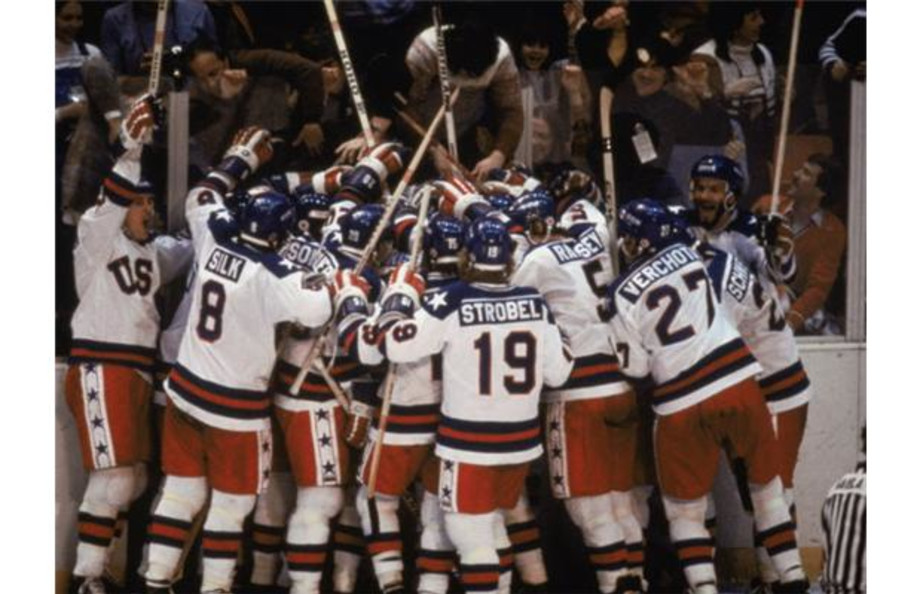 Date: 2/22/1980
Event: 1980 Winter Olympics
Location: Lake Placid, N.Y.
Unequivocally the most hyped moment in United States Sports history, the U.S. Men's 1980 Olympic Hockey team famously defied the odds by taking home gold, defending home ice in Lake Placid. You're probably familiar with Miracle, a Disney film marvelously depicting the emotions of Cold War era United States.
In a time before professional players were permitted to skate for the national team, Herb Brooks' group was comprised completely of college-aged players whom were hardly expected to make much noise at all against international pros, let alone march to the Gold Medal round. The team's climax came in the semifinal game against powerhouse Soviet Union, who hadn't missed out on gold for the past 20 years.
After falling behind 3-2 in the third period, Team USA surged back with goals by Mark Johnson and captain Mike Eruzione to give the inexperienced Americans their first lead of the game with 10 minutes left.
From there, you're familiar with Al Michaels' legendary call as the clock dwindled down: "11 seconds, you've got 10 seconds, the countdown going on right now! Morrow, up to Silk. Five seconds left in the game. Do you believe in miracles?! YES!"
Two days later, Team USA defeated Finland 4-2 to take home the gold in perhaps the biggest upset in Olympics history.
2. The Dream Team Takes Over the World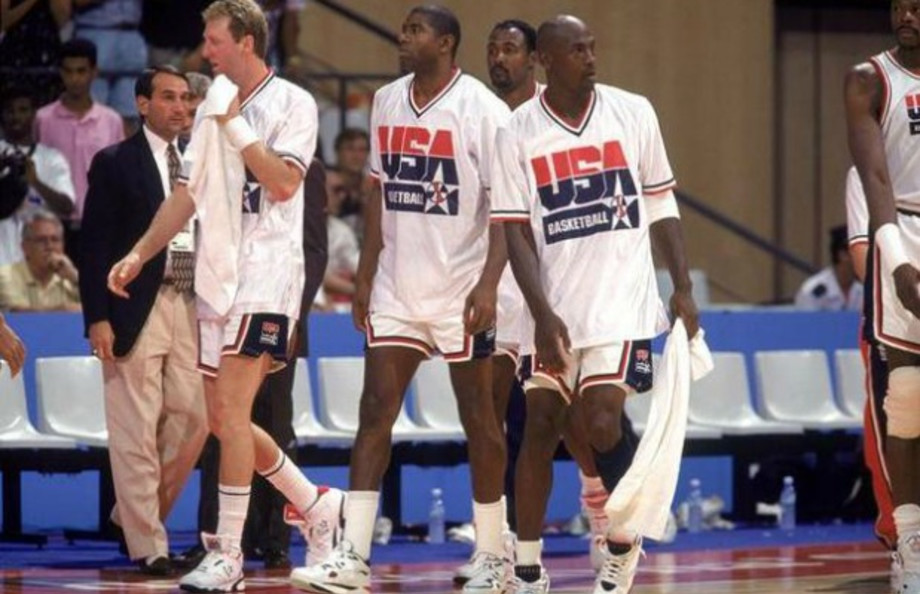 Date: 7/25/1992-8/9/1992
Event: 1992 Olympics
Location: Barcelona
There isn't much else to say about the Dream Team that hasn't already been written, talked about, or explored. We're only 22 years past the 1992 Olympics in Barcelona (an Olympics that, by all accounts, served as the first modern Olympic games in terms of sponsorships and business development) and we've already seen NBA history impacted by what these 11 NBA Hall of Famers (plus Christian Laettner) did.
Before 1989 America didn't allow professionals to compete in the Olympics. After US Men's Basketball could only muster bronze during the '88 Olympics, the NBA trotted out their best to take back American basketball dominance.
As expected, the Dream Team ran over every team in sight, and their presence pushed NBA basketball internationally, influencing many current European NBA players to pursue basketball professionaly.
1. Jessie Owens Dominates Hitler in the 1936 Olympics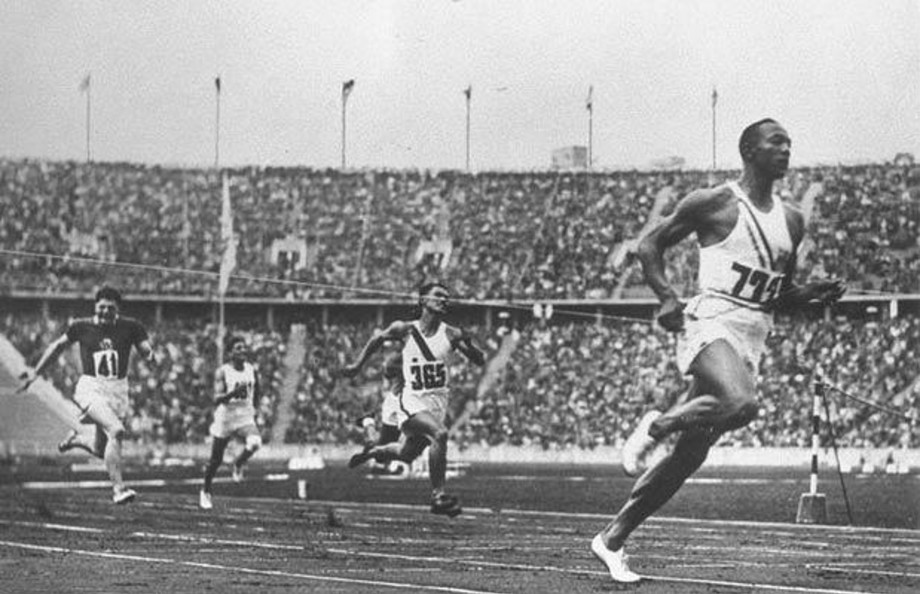 Date: 8/1/1936-8/16/1936
Event: 1936 Olympics
Location: Berlin
Another one of the U.S.A.'s most decorated Olympians, Jesse Owens handed Adolf Hitler and Nazi Germany a precursor L before the nation followed suit some years later. The 1936 Berlin Games were designed by Hitler to be something of a showcase of his new regime, and the dominance of the Aryan race. Hitler, viewed Africans and almost everybody else as inferior to Germans. Thus, the Games would be a cakewalk for the Nazis. Owens stacked four gold medals during his Berlin stay, like a true 1936 don.
As the Great Depression and the rise of the Nazis bodied the 1930s, though, the hero was never contacted by president Franklin D. Roosevelt. Hitler one-upped F.D.R., we guess, by sending Owens an Adolf Hitler photograph.
It wasn't until Dwight Eisenhower's presidency in 1955 that Owens was honored by the country, when Eisenhower appointed him as an "Ambassador of Sports."